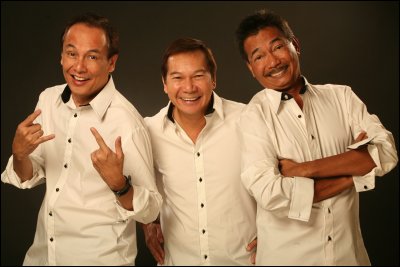 The APO Hiking Society had made timeless hits, awesome music, inspirational lyrics of love and life. as a matter of fact,several of their songs taught me to play music through guitar - they are one of my most significant influence. 4 decades of great music. the APO Hiking Society had carved their way unto our hearts -now they are bidding farewell to the music scene.
APO's Jim Paredes, Buboy Garrovillo and Danny Javier, the ageless triumvirate of the '70s and '80s pop music, announced in a press conference last January that their series of shows from February until the end of May will be their final curtain call.

Cebu City will be very grateful for they have chosen the city to be one the cities where the trio will bid farewell to their millions of fans.
The farewell concert, entitled "Paalam nAPO sa taga Cebu" will be held at Waterfront Cebu City Hotel & Casino on May 5, 2010 (Wednesday) at 8 pm.
This is a never-to-be-missed event. i hope i can save some money
to watch my idols say goodbye to the music scene.